Business training to help your business achieve its aims and objectives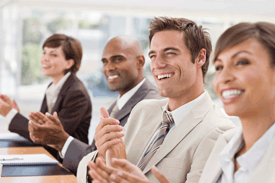 Large and small business tell us they are changing their business training investment by focusing more on the role people play in their organisation and to develop a learning plan based on the gaps in skills within these roles.
Competency-based business training works by organisations investing in the people who help run the business; this is accomplished through competency mapping and performance management.
Our highly-effective training courses focus on competency-based training which also help companies achieve its aims and objectives by encouraging delegates to implement the training back into the business so that business owners can see a real tangible return on their investment.
We guarantee our business training courses will help your training budget work harder to keep you competitively engaged in the marketplace.
Our dedicated team will work with to identify your training needs and finding the necessary course to meet those needs.
"Thank you for an informative and enjoyable day. In addition to the feedback sheets, the comments from the team on their return to the office have been positive and there is talk involving tautology and shorter sentences!"

K. Arnall – Norfolk County Council
Numerous companies offering business training, but no two courses are the same. They all have different strengths and features, as well as unique course content and structures.
Here are the answers to some questions we are often asked about business training courses.
How long are the courses?
This depends on the course and the depth of knowledge required. They range from a half-day to five days.
How many participants on the courses?
Our courses are very interactive where participants learn by doing rather than listening. So we normally restrict the maximum number to twelve. However, many of our courses may only consist of one or two delegates. These small courses ensure we move at the pace of the delegates; as fast or slow as necessary, as deep into the subject as appropriate and with more development than is possible on a group course.
How well qualified are the trainers?
Elite Training European Ltd use the best training consultants. To qualify as a consultant our trainers must:
have practical experience to a high standard in the field in which they are training. This ensures credibility with delegates
display excellent current knowledge of the subject in which they specialise
qualify as a trainer at the highest level and experienced with groups at all levels
meet customers' needs and welcomed back for more.
What are the costs for a course?
The cost will vary depending on the location and number of sessions we run for you. Because each course is unique and tailored to client's needs, it is difficult to give a specific price for a course. However, as a general guide, for an investment from £1,300 to £1,900 + VAT we will train a group of up to twelve people at your premises for one day. This is a total cost for all the group and includes our travel and training material for all participants.
Money-Back Guarantee?
The feedback from our clients enables us to predict confidently that you will value our service.
If you are dissatisfied with a training course that we run for you, you will not pay us.