News
How good are our team building events?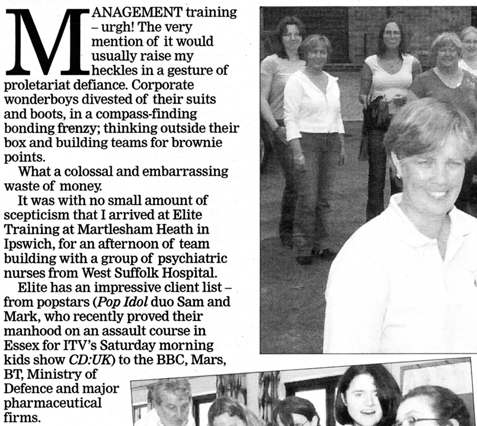 A sceptical reporter from the East Anglian Daily Times joined a team of nurses and occupational therapists on one of our team building activities. She saw the benefits of our training and compiled a report for the paper.

Please read a full copy of her report as it appeared in the newspaper
Guaranteed high-quality business games, training and team building
At Elite Training, we can help you develop the skills of management and staff through tailored training programmes, business games and team building activities. For over 20 years we have been delivering excellent training and skills development resources to businesses and public sector organisations in London and the South East, East Anglia and across the UK.
Business games and simulations - Licence free to use over and over again
Add interest and interaction to your training event, conference or seminar with our fun, informative business games and training games, all of which you can buy outright to use again and again. Focusing on real workplace issues, they range from short icebreakers to more in-depth business simulations.
We can also run business games for you, providing an experienced training professional to lead the activities.
Training courses - Tailored for your management and staff
We carefully plan our workshops and courses to help you meet key training objectives. Whether you want to concentrate on management skills, customer service or personal development, we will work closely with you to create a training programme that is targeted and productive.
Outdoor and indoor team building activities
Improve collaborative skills and stimulate initiative with our team building exercises and training activities, led by expert training professionals. Choose from a range of outdoor and indoor options, including assault and rope courses, team challenges, construction kits, tabletop activities and "Who Done It?" games.