Team Building Exercises
Team building exercises can unite a group, develop strengths and address areas for development.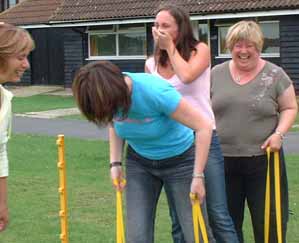 In business, team building exercises develop teamwork skills that help improve employee performance and productivity.
In general, team building exercises are geared to the three stages of team development:
Icebreakers
Focusing on getting to know one another, especially a new team
help members understand the importance of working together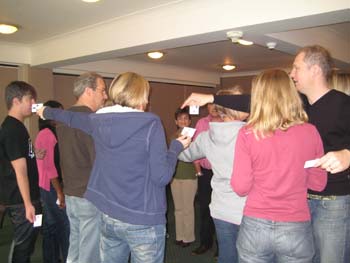 Team Development
Building stronger ties with members you already know
Improving communication
problem solving and decision making activities
building trust
boosting moral
learning effective strategies
Team Efficiency
develop an atmosphere of trust, confidence, energy and creativity
understanding others strengths and weaknesses
improving process, procedures and productivity
Our team building exercises give people a chance to learn personal information about each other. They can establish rapport and become more tolerant of each other. This creates a situation in which people are willing to work through situations in a more amicable way.
Team building exercises need to be carefully planned with a clear purpose and carried out strategically.
A key consideration is whether to make the team building exercises competitive. Competition tends to make one person or team work against another. If competition is part of the event it is important to ensure the exercises make people depend on others to succeed.
This also help create an environment that motivates people to achieve the goals and objectives of the organisation while subordinating individual goals.
We have a wide range of corporate team building exercises to suit your specific requirements and have the knowledge and expertise to consistently deliver enjoyable and beneficial team events for you.
Location and Duration
For over 20 years, we have been delivering excellent team building activities to businesses and public sector organisations in London and the South East, East Anglia and across the UK. Based in Suffolk means we are within easy travelling distance of Buckinghamshire, Cambridgeshire, Essex, London, Hertfordshire, Kent, Norfolk, Northamptonshire, Surrey and Sussex. We will also arrange Team Building Games anywhere in the UK or Europe.
If you are organising a conference, seminar or training event we can run a team building event to meet your needs. Just tell us: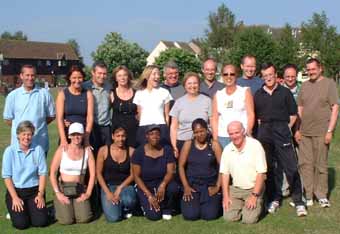 The learning objectives for your team event
Number of delegates
Time for the activity and debrief
Venue logistics
We will do the rest – planning the event for you and supplying skilled trainers to ensure you get the outcome you are looking for.
"I just wanted to drop you a line to say a BIG thank you for a wonderful day, professionally organised by yourself and your staff. All members of staff enjoyed the day and found it very rewarding."

J. Coglan – ELSBC
To see the other companies that have bought business games from us and their feedback on our services please visit our >> Customers and Feedback Page
For more information, please contact us.
Download our Brochures

Business Games Brochure

Course Brochure

Team Building Brochure