Team Building Games
Why play team building games? Will these team building games ultimately benefit the staff or the company? These are key questions we are often asked.
Well let's start by looking at children who do a lot of learning through games and having fun so can adults.
So how is it that some people do not learn? There are many barriers to learning, for example:
lack of time
lack of motivation
lack of confidence
lack of information about opportunities to learn
unsuitable work environment
inappropriate subject matter
past experience.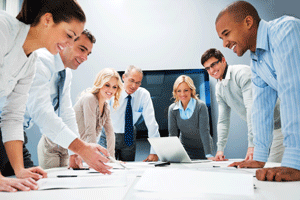 Team building games are a fun way to overcome these barriers and encourage experiential learning through play.
Games and activities help to stimulate the brain, improving retention of ideas, learning, and increasing fun and enjoyment.
Learning through theory is an acquired skill but experiential learning is a natural skill. Take the example of a child trying to force objects into a box with cut-outs of different. The child makes attempts to match shapes until s/he understands how it works and successfully completes the 'game.' When you do something, you understand how it is done.
"What I hear, I forget; what I see, I remember; but what I do, I understand." Confucius 451 BC
Co-authors of 'World Class Training', Kaye Thorne and Alex Machray, state that, "most memorable learning experiences (experiential learning) usually take place in a special environment."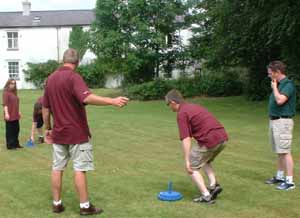 Team building games can also create a special environment where people feel valued, capable and foster growth.
Team building games and activities are useful also in serious business project meetings, where games and activities help delegates to see things differently and use different thinking styles.
Some Examples of Team Building Games
Birth Order
Ideal as an ice breaker to get a group interacting.
The group is tasked with forming a single straight line without talking and according to their birthdays. For example, persons with January birthdays will be at the beginning of the line, earliest January dates first followed in order by later dates. The line progresses by months and days with December birthdays at the end.
When the line is completed, each person will shout out his/her birthday, beginning in January.
The Maze
Provides a challenge and requires trust.
Preparation:
Set up a relatively easy maze in a room or outside with a clearly defined walking path around chairs or similar obstacles.
Get the group to work in pairs, and one from each pair is blindfolded. The other will lead him or her through the obstacle course by using only their voice.
Safety Brief
The sighted person must be told not put their partner at risk.
Tell the blindfold person "If during the exercise you feel too uncomfortable to continue, take off your blindfold and leave the exercise. Be assured that your partner and trainer will be concerned with your physical safety."
Always ensure that you have proper insurance in place for all team building games and do a risk assessment for each game.
We cannot accept responsibility for any liability which arises from the use of any of these free team building games.
We have a wide range of corporate team building games to suit your specific requirements and have the knowledge and expertise to consistently deliver enjoyable and beneficial team events for you.
Location and Duration
For over 20 years, we have been delivering excellent team building activities to businesses and public sector organisations in London and the South East, East Anglia and across the UK. Based in Suffolk means we are within easy travelling distance of Buckinghamshire, Cambridgeshire, Essex, London, Hertfordshire, Kent, Norfolk, Northamptonshire, Surrey and Sussex. We will also arrange Team Building Games anywhere in the UK or Europe.
If you are organising a conference, seminar or training event we can run a team building event to meet your needs. Just tell us: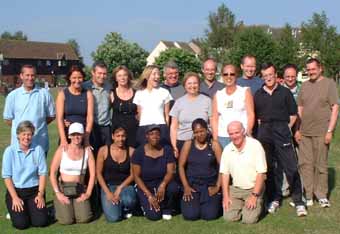 The learning objectives for your team event
Number of delegates
Time for the activity and debrief
Venue logistics
We will do the rest – planning the event for you and supplying skilled trainers to ensure you get the outcome you are looking for.
"I just wanted to drop you a line to say a BIG thank you for a wonderful day, professionally organised by yourself and your staff. All members of staff enjoyed the day and found it very rewarding."

J. Coglan – ELSBC
To see the other companies that have bought business games from us and their feedback on our services please visit our >> Customers and Feedback Page
For more information, please contact us.
Download our Brochures

Business Games Brochure

Course Brochure

Team Building Brochure