Who Done It? Creative and Lateral Thinking Team Building Exercises
Creative Thinking Team Event where good teamwork enables teams to solve a serious crime and discover "Who Done It?"
This popular team building event is a unique opportunity for team members to become detectives for the day.
Creative and lateral thinking with good teamwork will enable them to gather clues and solve a serious crime by discovering "Who done it?"
This exciting team building game requires teams to loan money to hire equipment for the challenges. Success in these challenges enables teams to make a profit. The most profitable team wins.
"We had a great day – it was well-organised, fun, with plenty of learning opportunities along the way."

John Clough – Suffolk Sport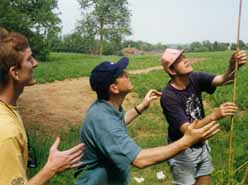 This team building event is good fun for the young and not so young.
It does involve some walking to find the clues, but is not strenuous. Be warned, the exercises will stretch your thinking, and you will find tense moments when all your planning and preparation has to be put to the test!
Success depends on the team discovering the identity of the offender and completing the challenges within their budget and time constraints.
"The day was well thought out with plenty to do in the time. Good tasks that made you think and work as a team."

R. Bloomfield – British Nuclear Group
Enjoy a pleasant a walk in the beautiful countryside of Suffolk – A treasure hunt with a difference!
This team building exercise is a series of creative and development activities; a fun way to develop creativity, time management, communication and effective teamwork.
The emphasis is on success through planning, team co-operation, excellent communication and negotiation.
The most successful teams consider ALL the options, before selecting the most effective method to achieve the activity.
After each challenge we debrief teams to enable them to improve their efficiency for the next one.
"It was a really good day – we all enjoyed it. It was really helpful in learning about the individual team members and how they react in different ways."

S. Jackman – Ipswich Borough Council
Location
Our "Who Done It?" takes place in the attractive countryside at Martlesham near Ipswich in the county of Suffolk, England. (Only an hour's train journey from London).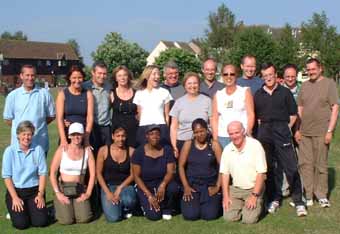 For over 20 years, we have been delivering excellent team building activities to businesses and public sector organisations in London and the South East, East Anglia and across the UK. Based in Suffolk means we are within easy travelling distance of Buckinghamshire, Cambridgeshire, Essex, London, Hertfordshire, Kent, Norfolk, Northamptonshire, Surrey and Sussex. We will also arrange Team Building Games anywhere in the UK or Europe.
If you are organising a conference, seminar or training event we can run a team building event to meet your needs. Just tell us: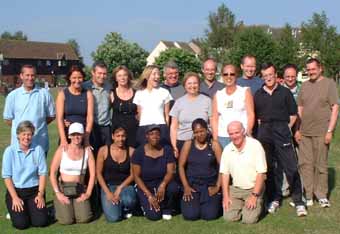 The learning objectives for your team event
Number of delegates
Time for the activity and debrief
Venue logistics
We will do the rest – planning the event for you and supplying skilled trainers to ensure you get the outcome you are looking for.
"I just wanted to drop you a line to say a BIG thank you for a wonderful day, professionally organised by yourself and your staff. All members of staff enjoyed the day and found it very rewarding."

J. Coglan – ELSBC
To see the other companies that have bought business games from us and their feedback on our services please visit our >> Customers and Feedback Page
For more information, please contact us.
Download our Brochures