Fun 'action-packed' creative thinking games with something for everyone. Ideal activity for team building events and conferences.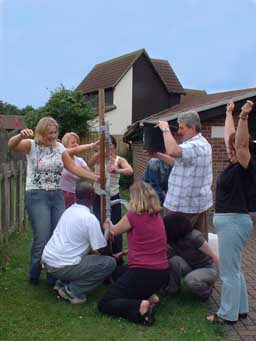 The Creative Thinking activities help individuals and teams develop the creative thinking skills required for effective corporate teamwork.
There are activities for the 'thinkers' and the 'doers' and many creative activities where participants need to work as a team to achieve success.
The activities highlight the need for:
creative problem solving
creative thinking
communication between the team
making the most of resources
leadership
strategic planning
efficient time management
effective teamwork
adapting to meet changing demands.
The emphasis is on success through planning, team co-operation, excellent communication and negotiation.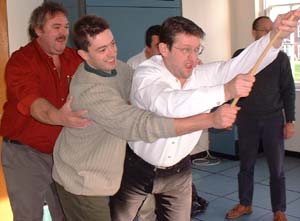 The Creative Business Company is ideal for corporate team building events, as well as business seminars and conferences. It is also a flexible learning resource that allows you to examine key team competencies and behaviours. Choose from the many activities for team meetings, assessment centres and team development.
In addition to creativity, teams achieve success by making the most of these key factors:
planning
efficiency
speed and
quality.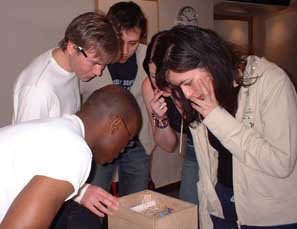 The team tasks are against the clock. As well as testing participants' ability to work as a team, it is a fun way to develop creativity, time management, communication skills.
How it works
The objective is to earn as much money as they can in the time allowed. Teams compete against each other or their performance against previous teams.
There are more tasks available than can be achieve in the allotted time and the profit from each task varies; so do they go for a high value task which takes longer, or low value tasks which are more quickly and easily achieved?
For example; the team in this picture earned £1,250 by finding these items. Sorry, no clues as to what they are – it will spoil your creativity!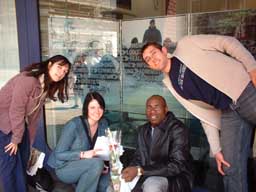 Many teams simply complete tasks randomly. However, to be successful they need a business plan that recognises and exploits the skills of team members. In addition, time scales need to be agreed or they will get carried away with the tasks and forget important deadlines!
The team tasks that can be completed indoors or outside, making it an ideal activity for corporate team building events and business seminars and conferences.
It is also a flexible learning resource that allows you to examine key team competencies and behaviours. Choose from the many activities for team meetings, assessment centres and team development.
"I loved it! There was a variety of exercises which required varied skills including creativity and logic – something for everyone. I really enjoyed getting to know people from other departments – really encouraged team work."

L. Manneimer – Access Accounts
"We had an excellent day with Elite Training. The Creative Business Company, not only enabled us to challenge ourselves but also helped to build team spirit which will be carried on into the workplace. A big thank-you to Mick and Liz."

H. Needham – BT
"Good, active and a variety. It showed skills not usually obvious in the workplace which highlighted new strengths for individuals and the team. The trainer was enthusiastic and friendly. A very useful day with fun team tasks which we'll remember."

H. Rossiter – Yell Group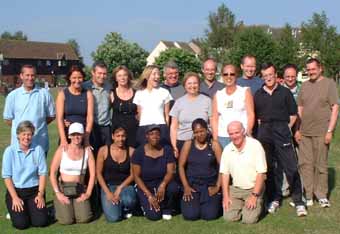 Location and Duration
For over 20 years, we have been delivering excellent team building events to businesses and public sector organisations in London and the South East, East Anglia and across the UK. Based in Suffolk means we are within easy travelling distance of Buckinghamshire, Cambridgeshire, Essex, London, Hertfordshire, Kent, Norfolk, Northamptonshire, Surrey and Sussex. We will also arrange a course anywhere in the UK or Europe.
We have designed the activities to be both enjoyable and adventurous for all members of the team, no matter what their level of fitness or ability.
If you are organising a conference, seminar or training event we can run a teambuilding activity to meet your needs. Just tell us:
The learning objectives for your team event
Number of delegates
Time for the activity and debrief
Venue logistics
We will do the rest – planning the event for you and supplying skilled trainers to ensure you get the outcome you are looking for.
"I just wanted to drop you a line to say a BIG thank you for a wonderful day, professionally organised by yourself and your staff. All members of staff enjoyed the day and found it very rewarding."

J. Coglan – ELSBC
To see the other companies that have bought business simulation games from us and their feedback on our services please visit our >> Customers and Feedback Page
For more information, please contact us.
Download our Brochures